From Studio to Stage Performance
A Partner With The Arts Event For Families And Friends

May 20 At 4:00 PM
Call 401 – 334 – 2560 or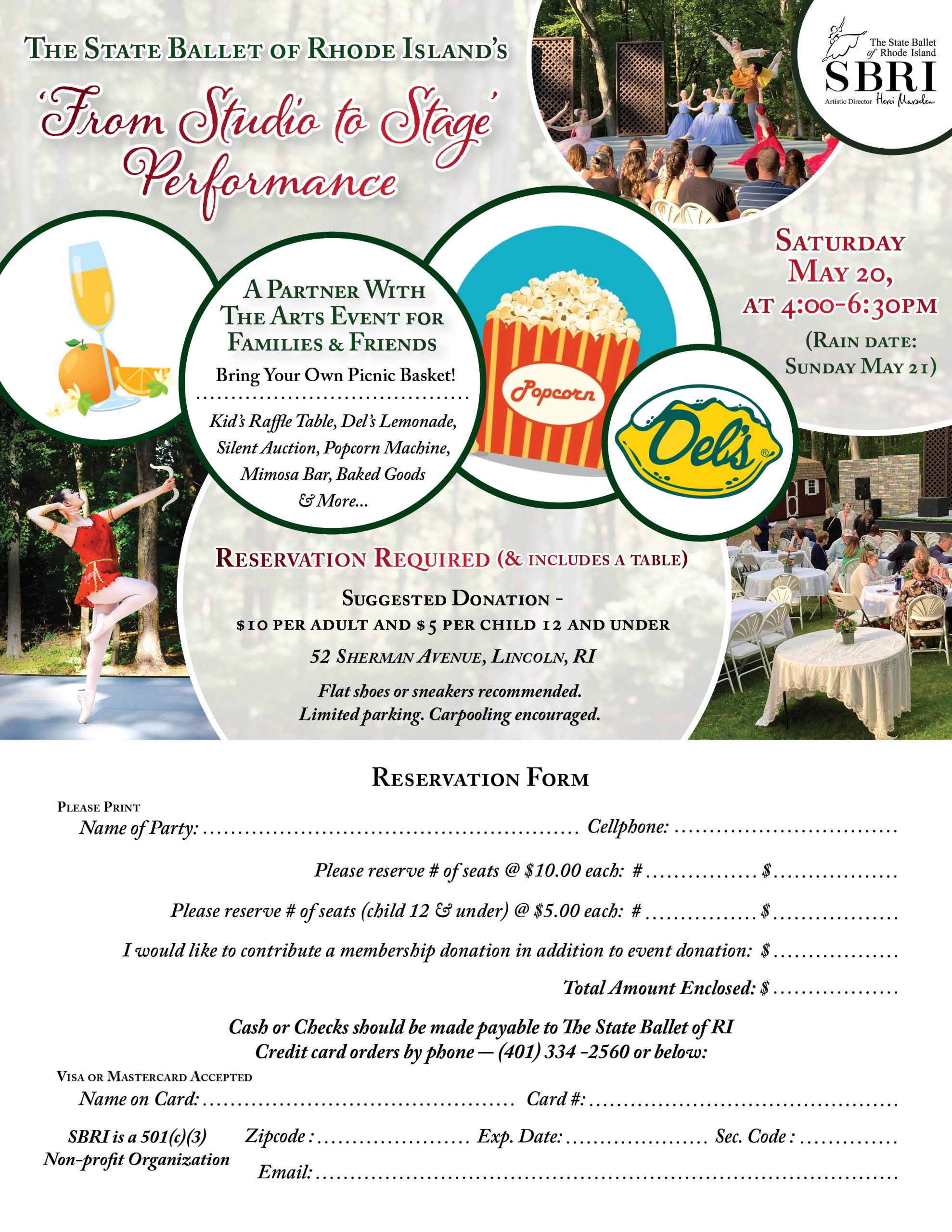 SBRI on YouTube
Explore some seelections of our performances
Check back as we continue to add samples of our repitoire
Brae Crest School
Enroll in classes at the official school of the State Ballet of Rhode Island
Classes run year round and including summer camp
Support SBRI
Consider supporting the State Ballet of Rhode Island.
SBRI is a non profit 501C3 Civic Classical Ballet Company
State Ballet has been awarded a grant from the Rhode Island State Council on the Arts, through the Rhode Island Culture, Humanities, and Arts Recovery Grant (RI CHARG) program. This program was made possible thanks to the National Endowment for the Arts, via funds from the federal American Rescue Plan Act.
Brae Crest


School of Ballet
The official school of
The State Ballet of Rhode Island
Brae Crest School of Ballet offers year round programs for all ages and levels of experience.
Classes are taught in ballet technique, pointe, character, pas de deux, ballet variations. Class levels are scheduled for pre-primary, beginners, intermediate, advanced and professional.
Founded in 1958, BCSB, is the official school of The State Ballet of Rhode Island, Director Herci Marsden.  We offer classical ballet classes for all ages, all levels and all abilities.  Come see what we have to offer or try one class first at our historic ballet studio in Lincoln.  Our new season begins on September 3rd. Registration is ongoing throughout the year.
52 Sherman Ave. Lincoln, RI 02865
Call 401-334-2560 for your one on one appointment today.
63rd Anniversary  Book
Take the opportunity to view our 63rd Anniversary Souvenir Book. The book features information on the company's history, our dancers, repetoire and much more.
You can also explore the State Ballet of Rhode Island's "Historic Pointes" section that highlights accomplishments as far back as November 19, 1960. This is when the State Ballet of Rhode Island had it's premiere performance in Rhode Island at Veterans Memorial Auditorium.
The book is also available at our performances.  To purchase tickets to our upcoming performance of Alice's Adventures In Wonderland you can use the links to individual performances on the main page.
I'm very proud to say my daughter dances for The State Ballet of Rhode Island. Mrs. Marsden is a wonderful, strong woman who cares very much for each of her dancers. I couldn't have asked for better role models for my daughters.
Very welcoming, Brae Crest's doors are open to all. Whether you have trained in ballet for years, you are bringing your child for his or her first class, or you yourself are pursuing a long time childhood dream, there is a spot for everyone.