Project Ballet in Education – Coppélia
SBRI's mission is to create, to present, to preserve, and to extend the great repertoire of classical dancing to the widest possible audience, while providing exciting performances and educational programming of the highest quality.
To help achieve this mission SBRI will be presenting a Project Ballet in Education "Pay What You Can" performance of Coppélia on November 22.  Come and see the witty and  & enchanting love story of a dancing doll.
To reserve your Project Ballet in Education tickets call the State Ballet of Rhode Island headquarters at 401-334-2560.
Next Performance - November 27 @1PM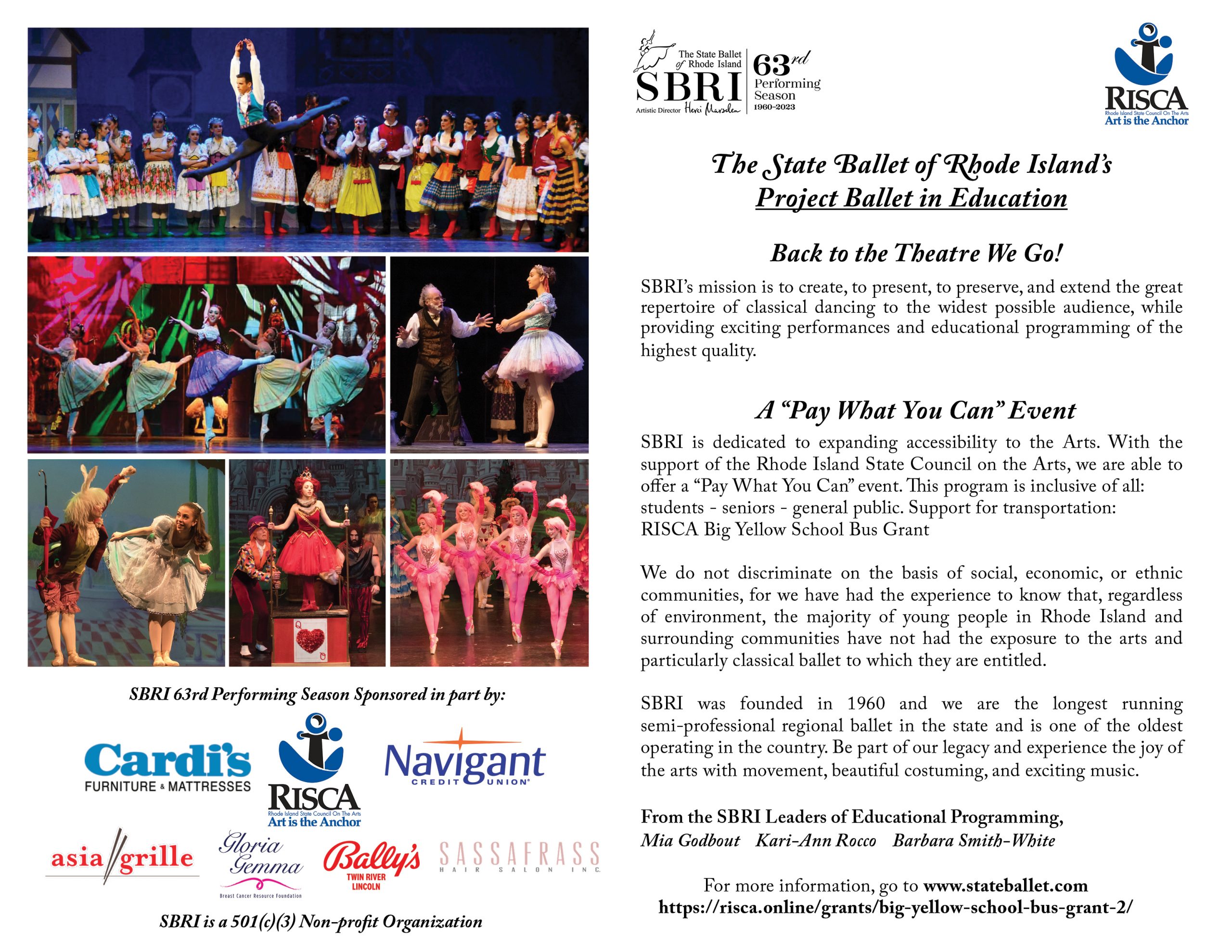 Coppélia
Kick off your holiday season with a Rhode Island tradition.  The State Ballet of Rhode Island (SBRI) presents Herci Marsden's Coppelia, a witty and enchanting love story with life size dancing dolls and a dash of magic.

Set to the beautiful music of Leo Delibes, you enter the world of the feisty Swanhilda, pompous Frantz, and the mysterious toy maker with his enamel eyed girl Coppelia sitting in the toy shop window.

FREE PARKING!
Coppélia
Date:  November 26 – 2PM
Historic Park Theater
Coppélia
Date:  November 25 – 2PM
Historic Park Theater
Made possible in part by The Rhode Island State Council on the Arts and a RI Culture, Humanities and Arts Recovery Grant.
Did You Know?
Coppelia was first performed by SBRI in the State of RI in 1962 at
Veterans Memorial Auditorium. At that time founding prima ballerina
Herci Marsden danced the role of Swanhilda.
SBRI holds true to the art form of classical ballet, preserving culture and tradition in motion. Many of the costumes worn, the props carried, and the scenery hung are decades old. The story of Coppélia is historic, as it was performed for the first time in Paris in 1870. New dancers, costumes, and audience members come with each passing year–and these fresh aspects blend with the traditional to become a masterpiece of creating, presenting and preserving this production for past and future generations of ballet lovers.